What to expect
Your First Visit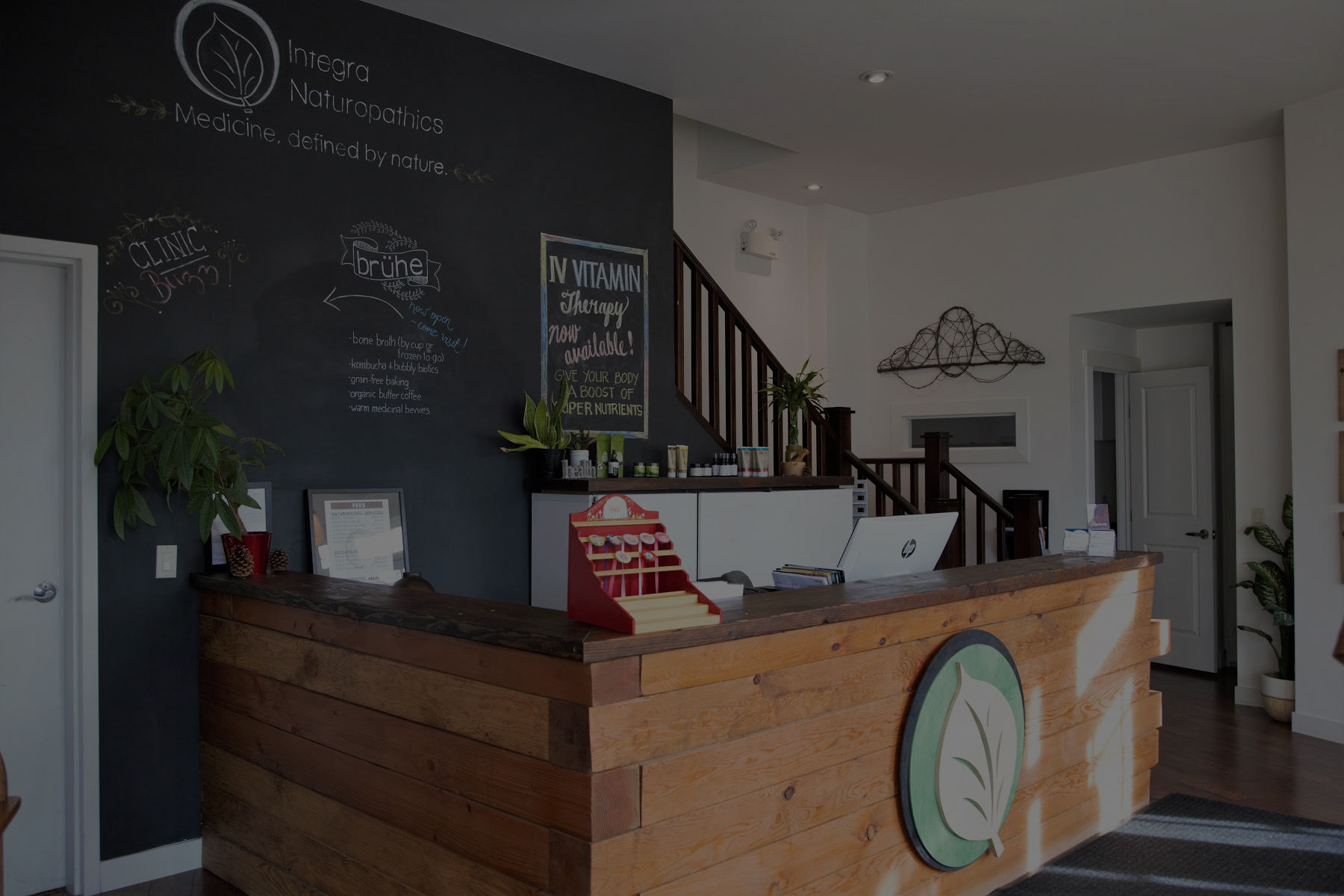 Creating Health at Integra
Integra Naturopathics is an innovative health concept, offering a distinctive approach to primary health care. Our unique wellness centre is based on the integration of several healing modalities, unique systems of health care that will change the way you think about your health - naturopathy, chiropractic medicine and osteopathy. At Integra, our mission is to be a trusted voice in all things good for you, guiding you along your path to peak health, in a way that is accessible for everyone.
Your health depends on your habit life. It's that simple.
We will chat lifestyle! We don't advocate modern, hypothetical nutritional fads or fitness programs. We teach principles based on the studies of traditional peoples, and the diets and habits that provided them with vibrant health.
Your health takes work. And it's worth it.
Our focus goes beyond your immediate health concerns to ensure that as your life evolves and changes, you are equipped to live your life to the fullest. Lifelong, preventative health care is a defining feature of our clinic.
Get ready to make your health a priority – ready to do some reading, ready to make some changes. Get ready to move beyond symptoms to treat the cause of your health concerns, so that you can experience optimal health today and tomorrow, for all seasons of your life.
What to Expect
Experience health care like never before! Our integrative health centre offers a variety of services to restore your body's ability to heal. Through the use of a variety of modalities, our practitioners work passionately to facilitate long lasting healing in your body, for all stages of your life.

We understand it's often intimidating to start treatment, so not to worry - we work with you to ensure your personalized health plan is both achievable and sustainable.

We value your time. To ensure you are not rushed, print off an intake form below, either adult or child (12 and under) prior to coming in for your first appointment.
Utmost attention will be given to your unique health concerns; a detailed history will be taken, and results from possible in-office tests will be discussed, to get a complete overview of your wellness.
Intake Forms
Meet the Team
At Integra, we embrace diversity. Dedicated, enthusiastic and experienced, our practitioners see a wide variety of people, both male and female, ranging in age from newborns to the very wise. Welcome to YYC's most experienced integrative health team!
Who Sees an ND?
Our typical patients have been struggling with complex health issues, often for many years. They've been to conventional and alternative health care practitioners, tried various fad diets and have a cupboard full of supplements that don't work. In a nutshell – their symptoms are a result of a deeper problem that has not yet been identified. Virtually all conditions seen by a general practitioner may benefit from naturopathic treatment. When the root causes of illness are addressed, deep and lasting healing are possible. We view the body as an interconnected whole, which requires us to consider all body systems, not only where symptoms exist.
Our Services
Integra Naturopathics offers services in Naturopathic Medicine, Chiropractic, and Osteopathic Manual Therapy
Naturopathic Medicine
General (12 years or older)
Initial Visit 60 mins $210
Follow Up Visit 30 mins $96
Acupuncture 30 mins $89
Youth ( under 12 years of age)
Initial Visit 60 mins $150
Follow Up Visits 30 mins $85
Chiropractic
General
Initial Visit 45 mins $105
Report of Findings 30 mins $50
Regular Adjustments 15 mins $50
Child (under 12 years of age)
Initial Visit 45 mins $85
Report of Findings 30 mins $50
Regular Adjustments 15 mins $50
Osteopathic Manual Therapy
General
Initial Visit 60 mins $150
Follow Up Visit 45 mins $105
Child (under 12 years of age)
Initial Visit 60 mins $110
Follow Up Visit 45 mins $90
Naturopathic, chiropractic and osteopathic visits and assessments are covered under most private, extended health plans. Many health spending accounts now cover supplement costs as well.
Book an Appointment
For more information on how our team of practitioners can help you, our clinicians are pleased to offer you a complementary 15 minute consultation. Simply call the clinic to arrange a time that is most convenient for you.